Raleigh Stoweway - The Affordable Fully Equipped Folding eBike
Raleigh know a thing or two about bikes having been in the business for over 100 years. So it's no surprise that they came up with this sturdily built, fully equipped folding eBike – the Stow-e-way.
As it's name suggests, this bike once folded down is easy to stow away under your desk, in a cupboard or your car.
Weighing a solid 20kg /44lbs, this somewhat chunky eBike folder with slightly larger than average width tires, provides stable handling on the road, easily able to deal with the odd pothole here and there. It is also strong enough to do some light off-road riding. Despite it's weight, the Raleigh Stow-e-way feels very nimble to ride which adds to the overall fun factor.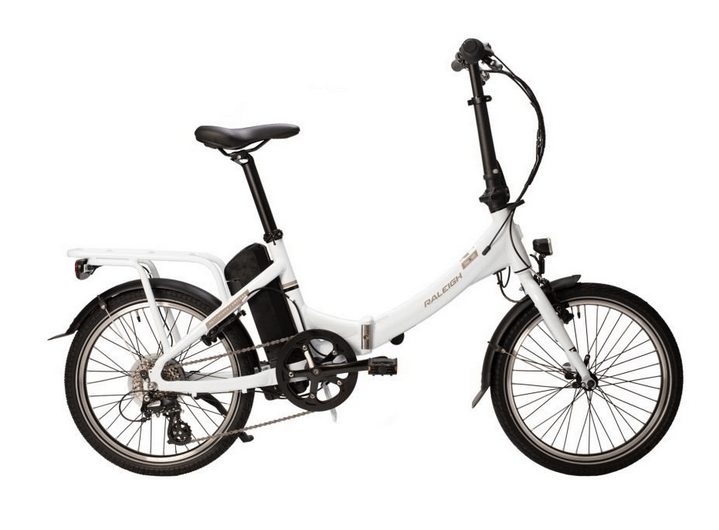 RALEIGH STOW-E-WAY SPECIFICATIONS

ELECTRONICS
Motor
TranzX R15 250W rear hub
Pedal Assist
4 levels inc walk assist
Top Speed
25km/h (15.5mph)
Battery - removable
TranzX 36V 6.8Ah 244.8 watt hours
Charge Time
4 hours
Range
30 miles / 48km
Display Unit
LED indicators shows assist level, battery status
BIKE FRAME & GROUPSET
Weight
20kg / 44lbs
Frame
Aluminium
Forks
Steel
Rear derailleur
Shimano Altus 8 Speed 11-32 tooth
Brakes
Shimano V Brakes
Tires
20"x 1.95" Kenda
Pedals
Foldable
ACCESSORIES
Lights
Front and rear LED lights
Mudguards
Full size mudguards on both wheels
Rack
Integrated
Kickstand
Rear kickstand
OTHER
Warranty
5 years on frame 2 years for electric components, 1 year on non-wearable mechanical parts
Raleigh Stow-e-way Overview
The bike is so easy and comfortable to ride that'll you'll feel equally at home zipping along busy city streets as well as riding at leisure down twisty country roads.
Raleigh has designed this fully equipped folding eBike to be accessible to as many people as possible with its low profile frame. This  makes it very easy for people who have difficulty with their knees or hips to step over and sit on the bike with very little effort. With it's simple controls on the handlebars, this bike can be ridden by complete newbies to eBikes.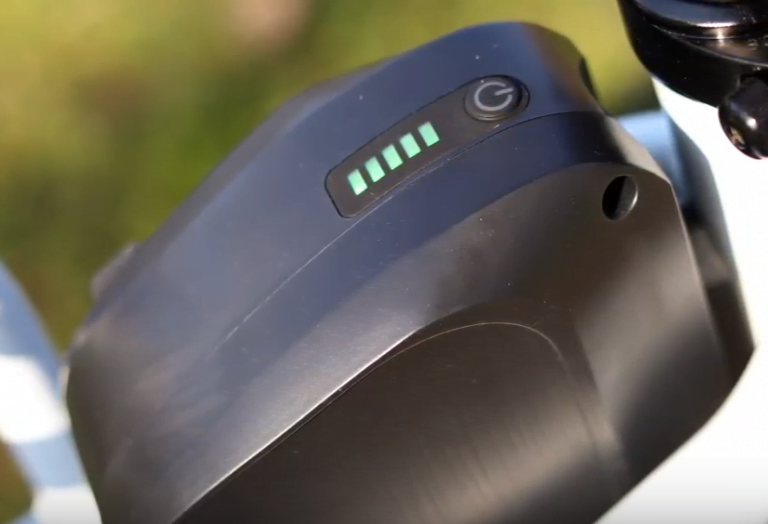 The battery has enough oomph (245 watt hours) to give you about 30 miles of riding on one charge with careful use of  the pedal assist.  This means that you can comfortably commute without worrying about running out of juice. In addition, the torquey little motor is strong enough to tackle reasonable hills without losing too much power. 
Note that Raleigh's stated battery range of 30 miles will vary considerably depending on factors such as weight, riding conditions etc.
The battery is tucked away neatly behind the seat stem so it doesn't ruin the lines of the bike and can easily be charged while on the bike by pulling open the tab to expose the charge point. 
Removing the battery for indoor charging is simply a matter of using the key to unlock it and sliding it out.
Pedal Assist and Display Unit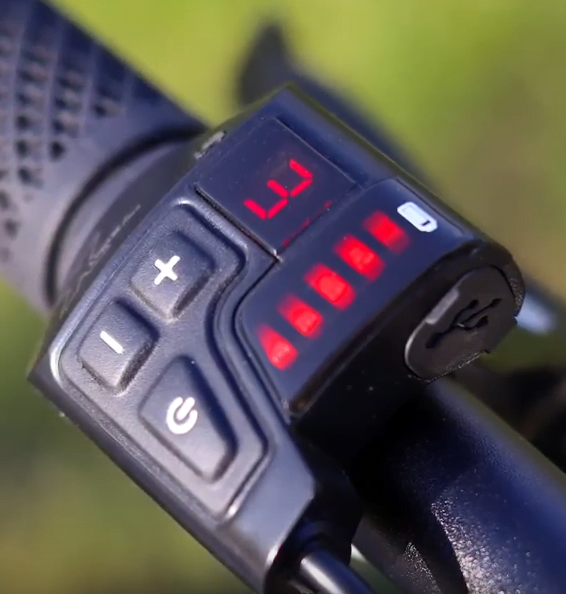 The
Stow-e-Way
is very easy to start, simply pressing the button on the battery will give power to the bike – the lights on the battery turn on green. Then pressing the button on the display unit will give you access to the pedal assist controls. 
On the right of the screen, a vertical line of red indicators tells you how much battery power you have remaining. On the left the pedal assist mode displays a number indicating what level of assist is on which can be adjusted by pressing the plus/minus buttons.
As you start to pedal the motor will kick in giving you a boost increasing the assistance with each press of the buttons. Once you reach 15.5mph (25km/h) the motor will stop and it's all down to you.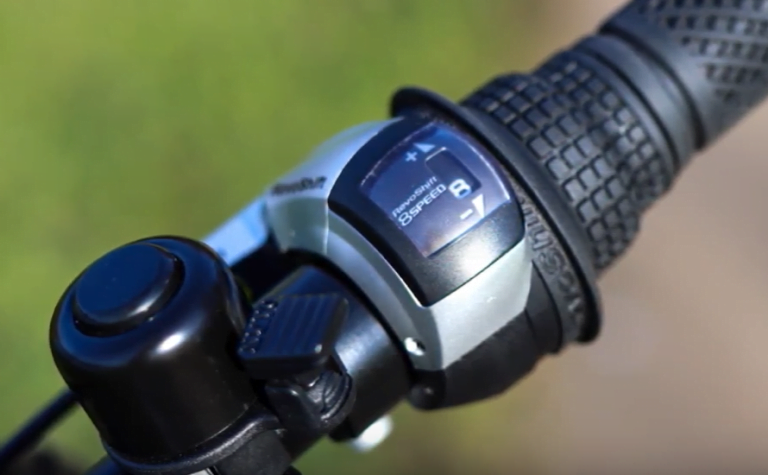 The 8 gears are controlled by a twist shift on the right hand side of the handlebars meaning you twist the shifter forward while pedaling to go up a gear and towards you to drop a gear. It might feel odd at first if you're used to another type of shifter, but you get used to this very quickly. It also feels more intuitive as an eBike beginner.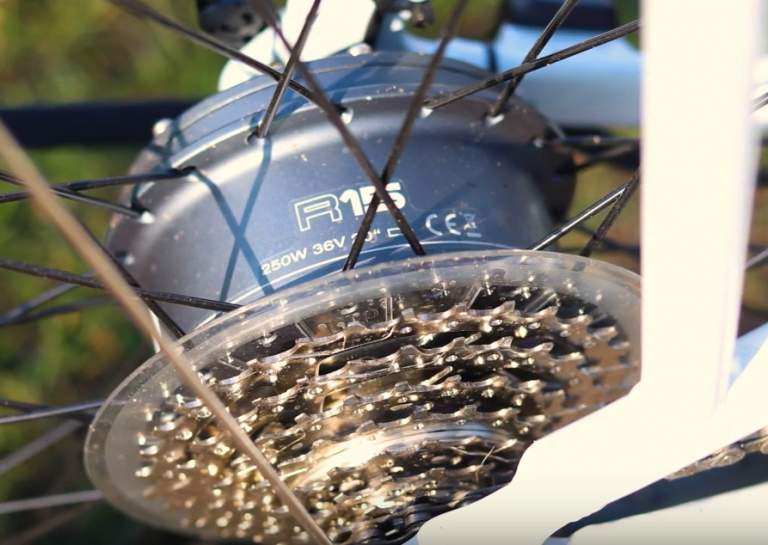 Raleigh Stow-e-way Frame and Folding Ability
The Stow-e-way can be folded down in 10 seconds once you've mastered the knack. It uses a two step system to unlock the middle of the frame (button and latch) and once you've lowered the seat and the handlebars it is very easy to move around on both it's wheels but fairly hefty to carry. It is also very stable standing on it's own in the folded position and you can even sit on the saddle in this position while maybe waiting for your train.
A common complaint of some folding eBikes is the lack of some locking mechanism to keep the wheels together when folded. Raleigh has thought of this with built in magnets to keep the bike folded neatly. Unfortunately, the handlebar stem isn't locked down and can swing when carrying the bike.
It folds down small enough to carry or wheel it on to a train and unfolds quickly for you to continue your journey.
Like most folding eBikes the
Raleigh Stow-e-way
comes in one size and is extremely adjustable to suit most people's heights by raising or lowering the seat and handlebar stems. It can comfortably fit people ranging in heights from 5'2 to 6'2 (1.5m – 1.9m).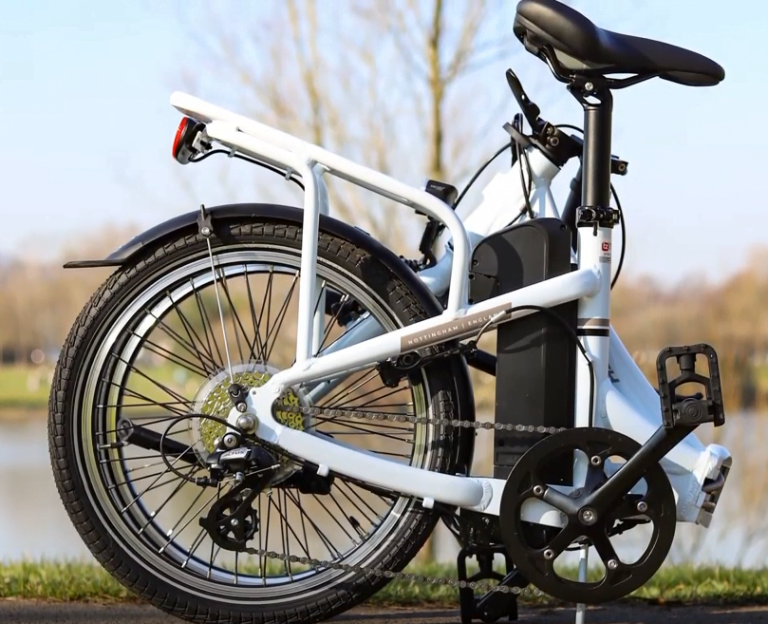 Safety & Comfort Features
Apart from the low profile of the frame, the Stow-e-way has some  other good safety features. For example it has a very clever integrated lighting system which turns on automatically as night begins to fall. As it 's powered by the bike's battery there's no need for additional power sources like there is with other eBikes.
It also protects you from wet roads and ground debris with full size fenders (mudguards) on both wheels.
Whatever speed you're doing you'll be able to stop safely with the Shimano V brakes.
One standout feature is the rear rack. Most rear racks are attached via screws which you need to check periodically as they work loose over time. Not so with the Raleigh Stow-e-way. This sturdy rack is welded into the frame to prevent those irritating rattles that can occur when simply screwed on.
It's slightly wider tires works well on cobbled streets or gravel and helps in the overall comfort levels you feel when riding this bike .  
Overall Impression of the Raleigh Stow-e-way
4 levels of pedal assist with 250 hub motor
Fairly basic display unit
8 gears gives enough flexibility over the type of riding you do particularly in the city
Handlebar can swing when folded down
Automatic lighting system 
Built in magnets to hold wheels together when folded
Very quick to fold and unfold
Includes full size fenders
Includes fully integrated rear rack
Puncture resistant 20″ tyres Very quick to fold and unfold
For less than £1500 the fully equipped Raleigh Stow-e-way provides such standout features as
a sturdy build which provides a very comfortable ride,
a fully integrated rear rack to hold heavy packages  
an automatic lighting system which turns on as it gets dark
full size mudguards to protect you from road debris
The Stow-e-way is very accessible and easy to ride for both eBike beginners and experienced alike. With the Raleigh name behind it, you can hardly go wrong. 
The only additional things you need to complete everything are a lock and a helmet.
Why spend 1000s on an eBike? BTwin Tilt 500 – the entry-level folding eBike designed for the budget conscious who seriously appreciate great value for money