In the past few years, battery technology has made a huge leap to the point where electric vehicles are not only practical for long-range trips but also economical. The future is here and it's called Micromobility Vehicles. These Personal Electric Vehicles (PEVs) are becoming more popular as an alternative means of transport. They're cheaper than electric cars, easy to operate, environmentally-friendly and can be used by most people. As well as being great fun to ride, micro-mobility vehicles offer that last mile solution when it comes to completing the final leg of your journey,
What is the best personal electric vehicle for the first or last mile of your daily commute?
The most well-known personal electric vehicles are folding electric bicycles and electric scooters, but there are many other options available including kickboards, unicycles and more.
All these vehicles can be used to finish the commute to work or college as well as for getting around town in general. They're fairly easy to ride with practice and maintain too!
Read this article to learn all about PEVs so that you can choose the right one for your needs.
The last mile vehicle is one of the fastest growing trends in personal transportation.
If you're not familiar with this trend, personal transportation or electric rideables offers a first-mile/last-mile solution for commuters whose office or college is some distance away from public transport.
What is an electric rideable or PEV?
Depending on your part of the world, personal transportation is known by various names such as PLEV – Personal Light Electric Vehicle, Personal Electric Vehicle (PEV), electric rideable, personal mobility device etc.
They are all the same thing which is a compact portable electric vehicle generally ridden by one person to get from one place to another. Each of these devices is powered by a battery and motor which is where the electric part of the name comes from.
Their small size makes them easy to carry on the bus or subway, sometimes in a bag, easy to store in the trunk of your car or under your desk! It is this compactness and easy portability that makes these machines particularly suitable as First mile or Last Mile vehicles and why their use has exploded in the last couple of years.
Some examples of Personal Light Electric Vehicles or electric rideables include eBikes particularly the mini folding types for Last Mile usage, electric scooters (standing or kick scooters not the moped type), electric unicycles commonly known as EUCs and electric skateboards.
The best solution for first/last mile transport will be dependent on the rider's skill, fitness levels, risk aversion and budget.
What are the differences between the personal mobility devices?
Electric Scooters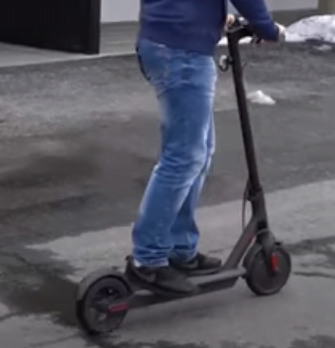 The advantages of using an electric kick scooter as your first/last mile transportation is that it's easy to ride. Most people are familiar with it having maybe ridden a regular scooter as a child.
It's easy to stand on, hold the handlebars and push off. Twisting the accelerator on the handlebar keeps the scooter moving and braking is done with a lever or button on the handlebars or a rear foot brake.
As long as you have basic balancing skills and can stand without much effort for about 15-30 minutes to cover the first/last part of your commute an e-scooter is an easy solution. However, if you suffer from any type of arthritis in your hands an e-scooter may not be your best bet.
E-scooters fold down quickly and are easy enough to carry on public transport.
One issue with the e-scooter is the tyre size. Coming in at an average size of 8″ (particularly for entry-level or budget scooters) does make it vulnerable to potholes and other bumps in the road, which in turn can make for an uncomfortable ride or if really unlucky getting thrown off the scooter. This can be mitigated a little with larger tyres of 10″.
The average price for an entry-level e-scooter is around $300
Riding skill 1
Fitness level 1-2
How risky 1-2
Electric unicycles – EUCs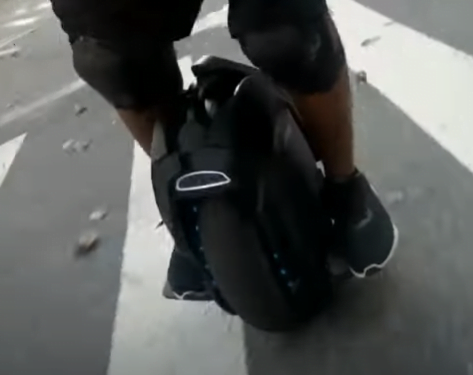 The EUC or electric unicycle is a futuristic looking one-wheeled device with the capacity to travel at high speeds.
Compared to the e-scooter, it is much more compact, can travel longer distances and is more easily maneuverable once you build up your skill levels. The only downside to this invention? You'll have to stay up-to-date with your balance skills!
Unlike an e-scooter which most people can ride within a few seconds, it will take much longer to improve your balancing skills on an EUC – both to stand on it and to steer.
The large 14″ -18″ wheel faces forward and has a small platform on either side for you to place your feet. The large size of the wheel absorbs bumps and potholes more easily and therefore gives a much more comfortable ride.
To start the EUC you need to lean your whole body forward and to slow down or brake you need to lean backwards. Emergency braking is achieved by leaning backwards and dropping into a sitting or squat position.
So you'll need good strength in your thighs and strong ankles to ride this for any length of time. As a beginner you'll also need nerves of steel at least initially to use the EUC as your first/last mile transporter.
The EUC is the most expensive of the micromobility devices starting at approximately $550 for an average model.
Riding skill 4
Fitness level 3
How risky 4
Electric Skateboards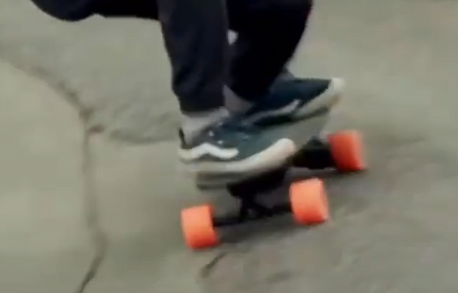 For those with experience of traditional skateboards moving to an electric skateboard is relatively easy.
For the rest of us a lot of skill and balance is required to use an e-skateboard. Like the EUC there is nothing to hold on to. But with 4 wheels it's initially easy to balance on. However as the wheels are very small, there is less protection against bumps and potholes and an enormous amount of skill and a certain degree of fitness is needed to ride these as first or last mile transporters.
The key difference between a traditional skateboard and an e-skateboard is the use of a handheld wireless remote control which is used to move the board.If the road is completely smooth the e-skateboard can travel at a fast pace and is a popular option for commuting.
The average price for an entry-level e-skateboard is between $200-$350
Riding skill 5
Fitness level 4
How risky 3
The Onewheel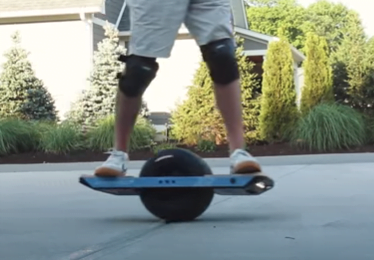 The Onewheel is the latest innovation in personal transport and it's a lot of fun. When you first set eyes on the Onewheel, it looks like a skateboard with one fat tire plunked in the middle.
You plant your feet on either side to propel yourself forward or backward depending on how much weight shifts toward that direction.
The internal sensors adjust your speed and traction levels based off of various factors like body position.
While it is relatively easy to get the hang of it, riders can develop a false sense of security and push the Onewheel beyond the rider's capabilities – the result? the rider ends up on the ground! Because of its big wheel the Onewheel can be ridden on much rougher terrain which makes it a more versatile machine than say the electric skateboard.
A good level of fitness is needed as is good leg, ankle and foot strength to move and direct the board
The price for the entry-level Onewheel Pint is around $300
Riding skill 4
Fitness level 4
How risky 5
Folding eBikes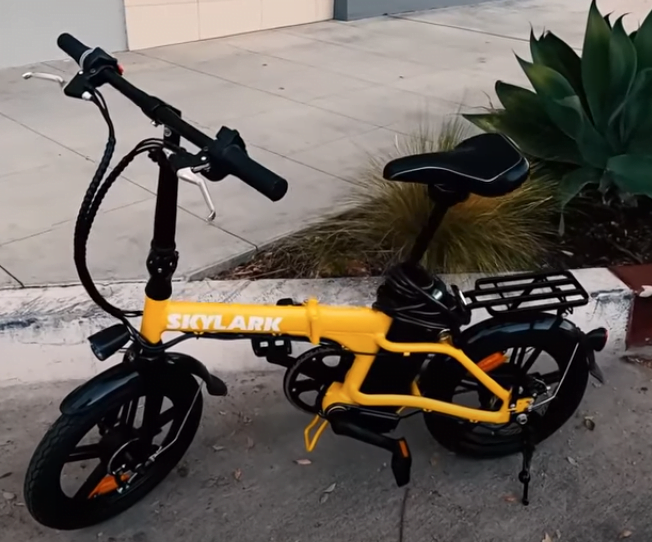 Folding eBikes are the largest of the Personal Electric Vehicles that can still be folded down small enough to be carried on a bus or subway. Like the e-scooter it is intuitive enough for most people to get to grips with it easily. Basic balancing skills is all that is needed to ride an e-bike.
[Read Why Buying a Cheap Big-Box Store eBike Might Be A Good Idea]
As you pedal the motor will kick in giving the bike extra power to travel faster, further and more easily especially up hills. Depending on the country you're in, some eBikes will have a throttle allowing you to ride without pedalling at all.
This makes the eBike accessible to a wide range of riders whatever their fitness or skill levels are including those who experience problems with their knees, ankles or hips.
Riding skill 1
Fitness level 1-2
How risky 1
Summary
Ultimately whichever device you choose the personal electric vehicle is the perfect first or last mile solution for your commute as you save money that would otherwise be spent on running a car or paying for cabs; saves you time as you don't need to contend with traffic congestion; and reduces your carbon footprint while having a great time on your PEV.
With 5 different modes to choose from, there's something that will work for everyone! Comment below and tell us what type of personal electric vehicle you use.