Furo X - Best Carbon Folding Ebike For Discerning Commuters
Living in an apartment block without an elevator I want a standard size folding eBike that is light enough to carry up and down the stairs without breaking my back and is comfortable enough to ride several miles for my daily commute.
Enter…. the Furo X from the London based FuroSystems. The first folding eBike made with an all carbon frame and carbon forks, this sleek looking beauty weighs just 15kg / 33lbs making it a relative cinch to carry. And with 20″ wheels this makes it a comfortable and stable ride for daily commuting.
Add a header to begin generating the table of contents
FURO X SPECIFICATIONS

ELECTRICS
Motor
250W nominal Bafang rear hub motor with 500W peak power
Pedal Assist
5 levels including 6km walk assist
Top Speed
25km/h (15.5mph)
Battery - removable
36v 8.7Ah (313Wh) or 36v 10.5Ah (378Wh) PLUS 2A charger
Range
45-60km / 28-37 miles depending on battery size
Charge Time
4.5 hours
Backlit Display Unit
Distance, velocity, battery status
BIKE MAKEUP
Frame
Carbon
Forks
Custom full carbon
Rear derailleur
Shimano Sora 9 Speed
Brakes
Shimano M315 Hydraulic Disc Brakes
Tires
20"x 1.75"
Pedals
Foldable
ACCESSORIES
Additional controls
Remote controller for rear indicator
Indicators
Removable rear indicator
Lights
Front LED light
Mudguards
1/2 mudguards on both wheels
Rack
Rear luggage carrier
Kickstand
Rear kickstand
OTHER
Warranty
2 Years
Shipping
Europe/UK - Free
Rest of the world - Paid
The Furo X is designed primarily with the city commuter in mind. It comes on the market as a "hardtail" with solid front forks. In other words there is no suspension anywhere on the bike which helps in keeping the weight down. So while the Furo X is solid enough to do some light trail riding it won't be the most comfortable experience.
However, the combination of its lightweight carbon frame, and its deceptively small 250W motor that peaks at 500W, and 5 levels of pedal assist, there is no fear of draining the battery and it provides plenty of torque when climbing those annoying hills. With a maximum range of between 45 and 60km  (28 and 37 miles), the bike inspires confidence that you can commute daily without suffering from range anxiety.
Of course, you need to be aware that these range figures will vary depending on the total weight being carried on the bike, style of riding, wind resistance etc. To get a more accurate idea of the range for you personally click here to use the FuroSystems range calculator.
If the worst happens and the battery dies, the bike is light enough to pedal without assistance made even easier with it's nine gears.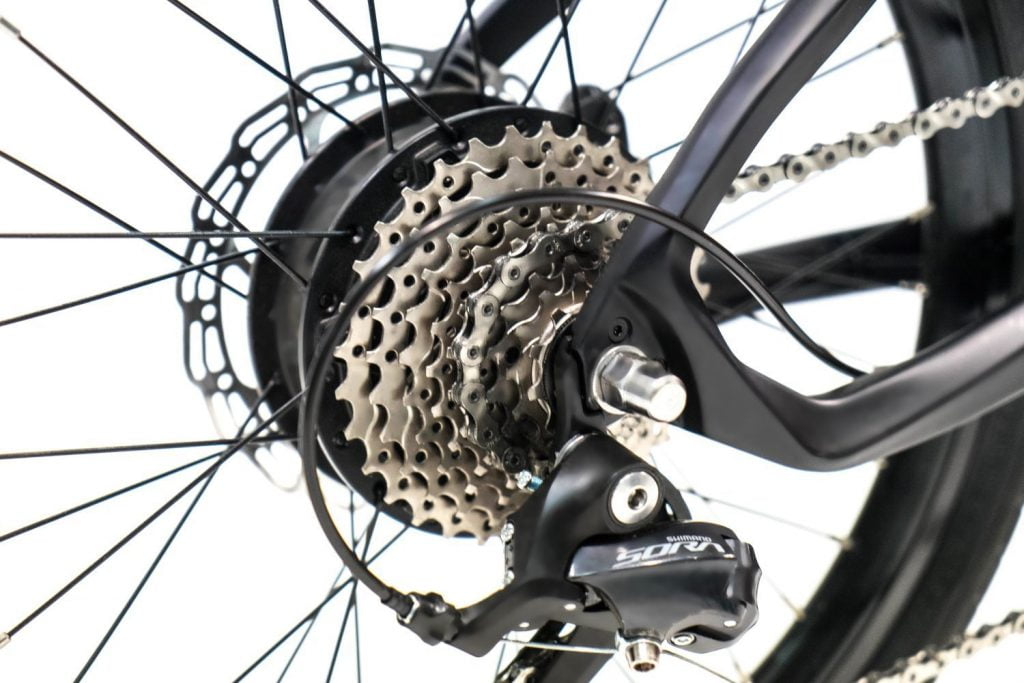 The rear deraillaeur is a 9 speed Shimano Sora. In terms of quality it is just above entry level and is commonly found on touring bikes as a mark of its durability. On the crank there is also an aluminium bash guard for the chain which protects both the chain and your clothing.
The Furo X 20″ wheels and shorter wheelbase makes the ride feel nimble and you can think you're travelling faster than you are actually are, which makes it fun to ride. But with hydraulic disc brakes on both wheels you are guaranteed to complete a sharp emergency stop if you need to.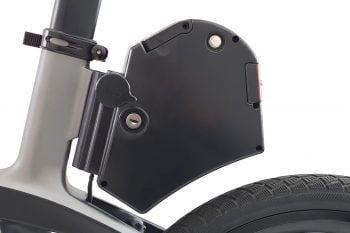 There tends to be challenges as to where to place a battery on a folding eBike without ruining the lines of the bike or adding too much weight. FuroSystems has got around this by placing their very quirky shaped portable battery on the bottom of the seat post. The bottom of the battery aligns perfectly with the shape of the rear wheel. From the side profile it looks a little like a bag.
The 36v battery comes with a choice of either 8.7Ah and 10.5Ah providing 313Wh or 378Wh respectively and is plenty for a commuter bike of this size. It slides easily on to the brackets on the seat post and is then locked into position with a key.
One nifty feature is that it doesn't have to have the key kept in for the duration of your ride. Many folding eBikes have to have the key inserted at all times which can be problematic if you keep all your keys on a keyring which in turn keeps knocking against the bike. 
On the Furo X pressing the button on the battery immediately gives power to the bike. Then press the button on the computer on the handlebars and you're ready to go.
The battery has a small handle for easy portability if you want to charge the battery off the bike. Charging takes up to 4 hours.
Pedal Assist and Display Unit
In combination with the 5 level pedal assist, the Furo X comes with a very responsive 12 magnet cadence sensor. This means as you start to pedal the motor kicks in to assist you at whatever level you've chosen and when you stop pedaling, the motor stops. Once you reach the maximum speed of 15.5mph or 25km/h the motor stops. This top speed means that the bike is street legal in most parts of the world and as such does not come with a throttle.
As a nice little detail, the speed assist also has a special mode called walk assist which helps you when you are walking and pushing the bike along.
Furo X Frame and Folding Ability
Like most folding bikes, the Furo X comes in one frame size. With it's telescopic  handlebar stem and telescopic seat post, the bike can be adjusted to suit most people. The seat post has markings and numbers on it to make it easy to remember the height your seat should be for you. The frame can accommodate heights between 160cm-195cm ( 5'2-6'5) and a maximum weight of 150kgs (331lbs / 23stone9lbs). A seriously strong bike.
While the Furo X is put together solidly, its rigidity is further enhanced with its tear drop shaped (slightly triangulated) seatpost as opposed to a standard cylindrical form, ensuring that there's no chance of the seat post twisting that can occasionally occur on other folding bikes particularly on rougher terrains.
The Furo X is quick to fold and unfold and can be completed in three easy steps. The main folding/moving parts – the steering stem, the seat post and the middle of the main frame use a two step system – release button and latch – which ensures the locking mechanism is secure, safe and won't unfold or collapse while you're riding it. Some other folding bikes only use a one step lock/release mechanism.
Once folded the bike remains stable by pushing the seat post all the way down and using the stem as a balancing leg.
For that little bit extra space when storing, the pedals also fold upwards.
Once folded the Furo X leaves a small footprint meaning it can easily be stored underneath your desk or inside a cupboard.
To wheel the Furo X in its folded position, raise the seatpost and wheel the bike backwards.
Safety & Comfort Features
The Furo X comes with a lighting system for the front and rear. The LED front light operates in flashing or steady mode and also comes with a built in reflector for extra visibility by other road users
See the video that demonstrates the lighting system.
The rear light module (which slides into the battery casing) is unusual in that it primarily works as indicators (turning signals) which is operated by a separate remote controller on the handlebars. The remote controller operates on a separate C2032 lithium coin battery. You need to manually switch the module on before using it on the bike. A small LED will glow red to indicate power is coming through. If you press both left and right buttons on the controller simultaneously the rear light will flash both indicator arrows repeatedly like hazard lights on a car. 
While this might suffice as night time visibility it might also be confusing for vehicles behind you because of those flashing arrows. 
It might be a good idea to get a secondary rear light for night time use.
The rear module needs to be charged with a standard usb cable which is provided with the bike.
Another little touch added by FuroSystems is the pair of 1/2 sized mudguards/fenders for both wheels which gives some protection from wet roads.
Lastly the Furo X comes equipped with a solid rear luggage carrier capable of holidng a couple of panniers with ease.
What previous users had to say after using the Furo X
"Has transformed my cycling experience" "I'm now cycling more that I was before" "The combination battery and easy to use gears make cycling up hills a pleasure", "I love the bike and have cycled 50 miles a couple of times on one charge"
Overall Impression of the Furo X
All carbon frame makes the Furo X very lightweight for its size
No built in clasp to hold wheels together when folded
9 gears gives flexibility over the type of riding you can do.
Rear hub of 250W with 500W peak combined with 20″ wheels creates sufficient torque for climbing hills efficiently.
5 levels of pedal assist plus walking mode
Included lighting system plus rear indicators
Folds and unfolds in seconds in just three easy steps
Light enough to carry easily on trains and buses
30 days return and 2 years warranty
The standout features of the Furo X include
an all carbon frame weighing just 13kg/33lbs
a powerful little motor of 250W with a maximum peak power of 500W
9 gear system
plus a range of features not available on many other electric folding bikes such as
rear indicators
rear rack
fenders
Overall Furosystems has created a very attractive, great quality and reliable folding eBike. The Furo X is solidly built and it's desirability is enhanced with its extremely lightweight carbon frame.
It certainly gives the UK's famous flagship, the Brompton, a run for its money coming in at a lower price, significantly lower weight and comparable quality.
This is a serious folding eBike for the discerning commuter with a comprehensive set of features that should satisfy the most critical.