BTwin Tilt 500 Folding eBike - Designed for the budget conscious
Regular folding bikes are not the cheapest of bikes and this holds doubly true of electric folders. So if you're on a tight budget it can be challenging to find one that is i) halfway decent, ii) does the job and iii) is fun to ride.
Decathlon's own store brand – the popular B'Twin Tilt 500 fits firmly in the budget class appealing to a wider range of buyers and those looking for their first entry into the eBike world. Like most eBikes in the sub $1000 category – you get the basics and few fancy frills but nevertheless the Tilt 500 ticks all three boxes.
The B'Twin is attractive to look at partly because of the colour – (black or white) and partly because there is no bulky battery to distract the eye from it's fairly clean look. If you want a bike that doesn't scream electric to the world then this could be the one.
Add a header to begin generating the table of contents
BTwin Tilt 500 SPECIFICATIONS

ELECTRONICS
Motor
250W rear hub motor
Pedal Assist
3 levels
Top Speed
25km/h (15.5mph)
Battery - removable
24V 7.8Ah (187.2Wh)
Charge Time

4.5 hours

Range
20-35km / 12-21 miles depending on assist level
Display Unit
LED indicators shows assist level, battery status, lighting
BIKE MAKEUP
Frame
Aluminium
Forks
Steel
Rear derailleur
Shimano Tourney 6 Speed 52 tooth front chainwheel
Brakes
V Brakes
Tires
20"x 1.75" with Skinwall technology
Pedals
Foldable
ACCESSORIES
Lights
Front and rear LED lights
Mudguards
Full size mudguards on both wheels
Kickstand
Rear kickstand
OTHER
Warranty
Lifetime on frame, stem, handlebar and fork
2 years for battery
Let's be clear right from the start. With a stated maximum range of 21 miles (35km), the B'Twin Tilt 500 is geared up for fairly short commutes to the shop, work, or college etc. It isn't configured for all day long country rides up and down steep hills. This is a city bike designed for nipping in and out of traffic.
Weighing in at a relatively hefty 18.6kg/41lbs the B'Twin comes with a 250w rear hub motor and 24V 7.8Ah battery  which is hidden within the frame. At first glance you might be fooled into thinking that this battery isn't powerful enough only providing 187.2 watt hours. However at this budget price point, it  gets the job done for short commutes. It also folds down small enough to easily carry on a train for the bulk of your journey and unfolds quickly enough to continue your journey at the other end.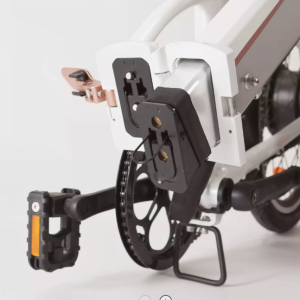 The battery is hidden away within the bike frame and is only accessible when the Tilt 500 is folded in half. The locking mechanism is built into the handle of the battery. With the handle pushed down the battery remains locked into position. Raising the handle unlocks it and allows you to remove it for charging. Of course you can recharge the battery in situ if you choose. Charging takes up to 4 and a half hours.
The battery range is stated as 35km(21 miles) in economy mode, 25km (15.5 miles) in normal and 20km (12.5 miles) in sport mode.
As ever you need to remember these figures will vary dependent on your weight,  types of riding and weather conditions.
While Decathlon has tried to keep the overall weight of the bike lowish with its aluminium frame, if you have to cycle the bike with a dead battery and you're not fit enough, it will still be a bit of a slog particularly uphill.
One way of countering this would be to carry a spare battery which would add another 1.46kg (approx 3lbs) to your overall weight but gives you the option of longer rides.
Pedal Assist and Display Unit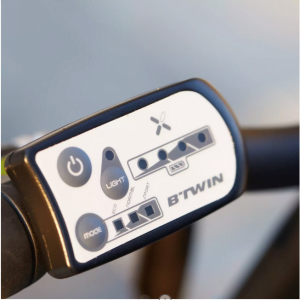 The B'Twin Tilt 500 offers 3 levels of motor assist – economy offering the least assistance, normal and sport modes which offers the most assistance and like many eBikes in the European market offers no throttle option. Once you reach 15.5mph (25km/h) the motor will stop running.
The pedal assist system is cadence based meaning that as you pedal the motor will kick in. A torque based system works differently in that the motor will assist you depending on how much power or effort you use to turn the pedals giving a more natural feel to the ride. 
The display unit itself is very basic and uses LED lights to indicate which mode of assistance is being used,  how much battery power is remaining and whether your lights are on.  It is from this unit that you turn on the power for the bike with a simple push of the on/off button.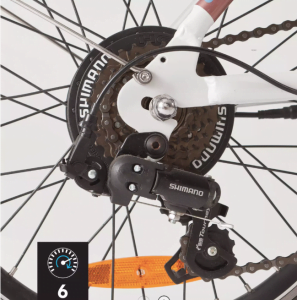 With just 6 gears provided by the basic but capable Shimano Tourney rear derailleur, it's good enough to zip about town riding on the flat and can manage modest hills but unless you're in sport assist mode and low gear you'll find it challenging to climb any serious hills without a lot of pedal effort from you.
BTwin Tilt 500 Frame and Folding Ability
Short or tall, the B'Twin Tilt 500 is immensely adjustable to accommodate a wide range of people measuring from 1.45m to 1.85m (4'9″ – 6'1″) in height with a maximum weight of 100kg (220lbs / 15stone 10lbs).  Both the seat post and steering stem slide up and down easily to ensure the perfect fit before you ride the bike. One nice little touch is that seat post has been designed in such a way to prevent unwanted rotation while riding that can sometimes occur with other bikes.
The B'Twin Tilt 500 is quick to fold and unfold and can be completed in 15 seconds with some practice. It is just a matter of unlatching the steering stem, seat post and middle of the frame.
Once folded the bike remains stable using the built-in kickstand.
The Tilt 500 despite being a little chunky, folds down small enough  to be easily put in the boot of a car or tucked under a desk and the pedals fold up too for just that little bit of extra space.
Safety & Comfort Features
Unsurprisingly there are no disc brakes on this eBike. Braking is provided by aluminium V-brake callipers with rubber pads which is good enough for the power of the bike.  Once you pull the brake lever the motor cuts off as an additional safety feature.
The B'Twin Tilt 500 comes with full size fenders (mudguards) on both wheels to offer up protection from the rain and dirt on the roads and also includes an LED lighting system for the front and rear. The rear light is built into the rear fender.
With it's 20″ wheels and puncture resistant tyres you are guaranteed a comfortable ride and can even get away with some light off-roading.
What previous users had to say after using the BTwin Tilt 500
"I only turn the power on when i need it ( such as a headwind or and incline)" "great practical bike & is so easy to fold" "Great value and engineering", "The bike is very pratical to use, especially in the city" You can read full reviews from existing users here
Overall Impression of the BTwin Tilt 500
3 levels of pedal assist with 250 hub motor
No built in clasp to hold wheels together when folded
6 gears gives some flexibility over the type of riding you do
Puncture resistant 20″ tyres
Very quick to fold and unfold
Includes full size fenders
Lifetime warranty on frame, stem and handlebar
The B'Twin Tilt 500 is a very popular entry level folding electric bike offering eBike beginners access to the eBiking world for well under £1000. It can be used in conjunction with public transport as a "last mile" option or as a cheap alternative to public transport depending on the distance you want to travel.
Overall Decathlon provides an attractive basic folding eBike for the budget conscious rider. And more importantly, this company is prepared to put its  money where its mouth is and offers a lifetime warranty on the bike frame, stem and handlebar. That's a company that believes in its product.
The Raleigh Stow-e-way – this sturdy fully equipped folding eBike with integrated rear rack and automated lights system is just such a fun and comfortable ride.